Federation of Finnish British Societies ja Finnish-British Society Helsinki (Finnbrit) järjestävät 38. kerran valtakunnallisen englanninkielisen kirjoituskilpailun vuonna 2021 lukion aloittaville / aloittaneille oppilaille.
PALKINNOT
Kilpailun pääpalkinto on 500€ Iso-Britannian matkaa varten (maksetaan kuittia vastaan). Muut yhdeksän palkintoa ovat englanninkielistä kirjallisuutta.
SÄÄNNÖT JA OHJEET
Opettaja järjestää valvotun kirjoitustilaisuuden joko ke 01.09. tai to 02.09.2021. Kirjoitusten aiheet julkaistaan sivulla www.finnbrit.fi keskiviikkona 01.09.2021, klo 8.00.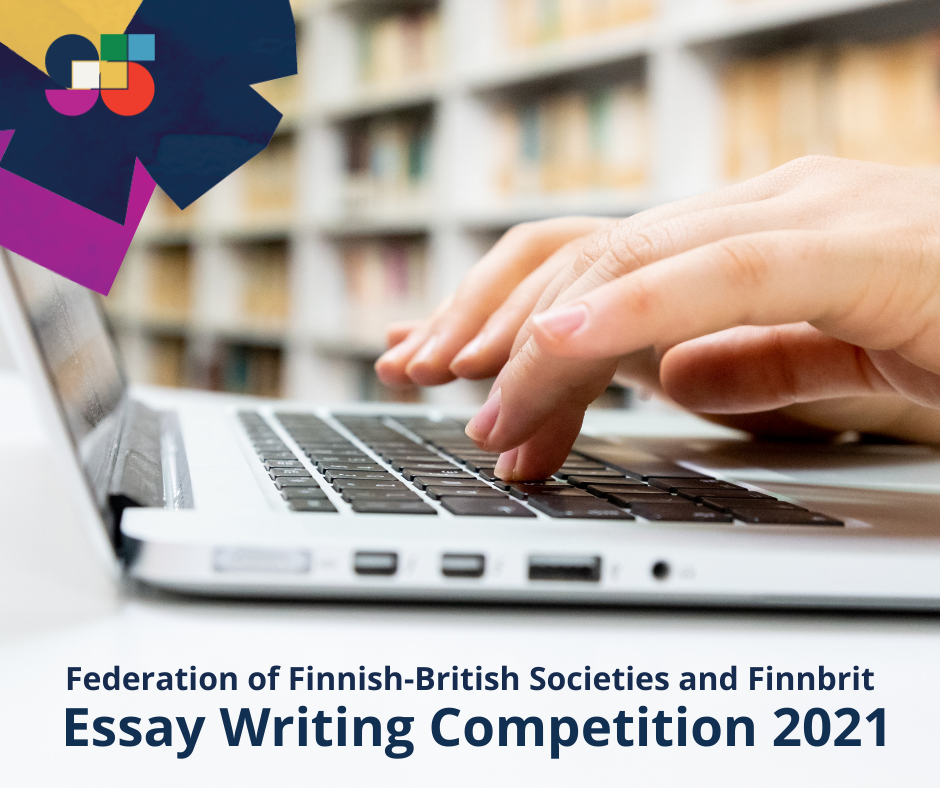 Kilpailuun voivat osallistua kaikki lukion vuonna 2021 aloittaneet oppilaat. Kirjoitusaika on 90 min ja aineen tulee olla 200-250 sanaa pitkä, artikkelit ja prepositiot sisältäen. Yli 300 sanan kirjoitelmia ei huomioida. Aineet tulee kirjoittaa koneella, mikäli mahdollista. Jokaiseen kirjoitukseen tulee lisätä kirjoittajan nimi ja ikä sekä koulun nimi. Sanakirjan tai muun materiaalin käyttö ei ole sallittua.
AINEIDEN LÄHETTÄMINEN FINNBRITILLE
Kirjoitusten tulee olla perillä pe 17.09.2021 mennessä. Opettaja valitsee oman harkintansa mukaisesti kaksi kirjoitusta jokaisesta ryhmästä (tai kaksi kirjoitusta jokaista n. 25 oppilasta kohden, jos oppilaita on paljon eikä ryhmiä tai luokkia ole käytössä). Koko ryhmän, luokan, tai koulun kirjoituksia ei pidä lähettää. Valitut kirjoitukset tulee lähettää pdf tiedostoina sähköpostilla osoitteeseen finnbrit@finnbrit.fi. Ne voi lähettää myös postitse osoitteeseen Finnish-British Society, Fredrikinkatu 20 A 9, 00120 Helsinki, missä tapauksessa ne tulee laittaa postiin hyvissä ajoin ennen määräaikaa.
ARVOSTELULAUTAKUNTA
Arvostelulautakuntaan kuuluu Opetushallituksen, Helsingin yliopiston, englannin kielen opettajien yhdistyksen ja Finnish-British Societyn edustajia.
VOITTAJIEN JULKAISEMINEN
Tiedot voittajista julkaistaan verkkosivulla www.finnbrit.fi pe 12.11.2021. Todistukset ja kirjat toimitetaan voittajien kouluun. Pääpalkinnon voittajaan otetaan yhteyttä koulun kautta.
Finnbrit pidättää itsellään oikeuden julkaista voittajan nimen, voittajan koulun nimen, sekä voittanut kirjoitus websivuillaan www.finnbrit.fi ja jäsenlehdessään: http://www.finnish-britishsocieties.com/magch.php