Finnbrit Open House 2023
The Finnbrit Open House will return on Thursday 17 August!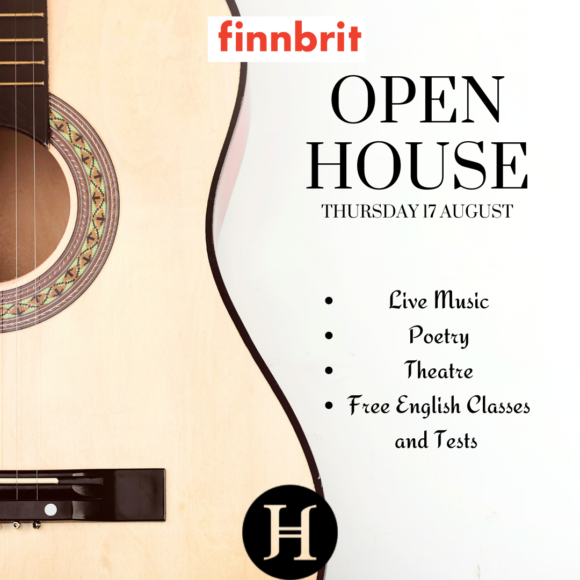 Our doors will be open all day to celebrate the annual Night of the Arts and we will have a packed programme of activities to entertain you. The day will include music, theatre, poetry, English tests (unofficial), sample English lessons, study advice and more. All for free!
14:00 – 16:00 Free Level Tests – reading and speaking (please note the result of the test is unofficial) Book now.
14:00 – 16:00 Boost your English! (free English lessons with our expert English Language trainers) Book now.
16:00 – 16:45 Cake and Conversation (an English conversation class with a difference!) Book now.
The evening programme is full of entertainment. All free. No booking required.
17:00 – 21:00 Live art by Samuel Schumacher
17:00 – 17:15 A selection of Persian poems translated into English, read by Azin Farahani
17:15 – 17:30 Morris dancing by Helsinki Morrisers
17:30 – 17:45 Poetry read by Mira Berglund-Fitzpatrick
18:00 – 18:30 Live music by Folk Boomers
18:30 – 19:00 A variety act by The Finn-Brit Players
19:30 – 20:00 Live music by Shanty-people
20:00 – 21:00 Open Mic
Refreshments will be available throughout the day.