Henna/Jagua Tattoo Workshop
During this workshop, you can learn to make simple or complex henna or jagua tattoos, first on paper, then on your own skin.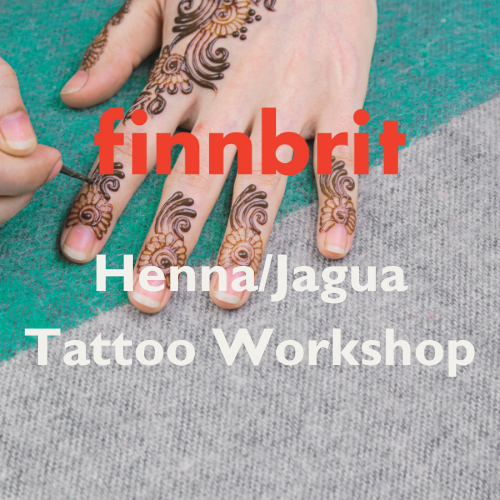 Friday, 15 September 2023
5:00-9:00 pm
Henna (Lawsonia Inermis) is a plant with tinctorial properties, that produces a copper/brown dye when in contact with the skin or hair. In paste from powdered dry leaves, it has been and is still used for non-permanent tattoos for celebrations and weddings in north Africa, India and Bangladesh.
Jagua (Genipa Americana) is a tropical fruit that leaves a dark blue stain; mixed with water and guar gum, it produces a gel that one can apply on the skin; after drying and removal of the gel (2 hours after application), the print of the drawing on the skin turns into dark blue after 12 hours. This tropical fruit juice has been used by tribes in the Amazonian rainforest for centuries for non-permanent tattoos.
I heard about henna tattoos during a wedding in Mauritius and loved a lot the idea of those non-permanent tattoos. I have made my own since 2020 and would like to share all the relaxation and fun it gives. I also started using jagua to diversify the colours obtained.
During this workshop, you can learn to make simple or complex henna or jagua tattoos, first on paper, then on your own skin.
You can get inspiration from patterns available during the workshop, use stencils (provided), or just improvise!
During the drying of the henna, some tea, fruit juice, and biscuits will be served.
The tattoos will get their full colour 24-48 hours after the workshop.
The tattoos are not permanent and last for 7-10 days for the henna and 2-3 weeks for the jagua.
For who? No need for any experience in henna tattoos. All persons of all ages are welcome!
As there is eucalyptus essential oil in the henna, it might not be recommended for pregnant women.
If you have an allergy to tropical fruits, eczema, extremely sensitive skin and/or G6PD, it would be better to avoid jagua.
Risks of allergies?
The henna cones (Neha herbals) used have the following composition: water, henna, benzyl alcohol, propylene glycol, terpineol, polysaccharide, and eucalyptus oil.
The jagua is purchased from the jagua henna website: https://jaguahenna.com/faq/about-jagua/. The main component of the formula is the fruit juice of Genipa Americana. In addition to this, it contains an olive oil derivative (Phytosqualane), a thickener (Xanthan gum), water, a preservative (Sodium benzoate), a preservative (Potassium Sorbate), and Citric Acid. All these ingredients are 100% natural and are also used in food products.
Usually they are not allergenic and shouldn't be. Nevertheless we'll proceed to a small allergy test at the start of the workshop, just to be sure.
Emilie