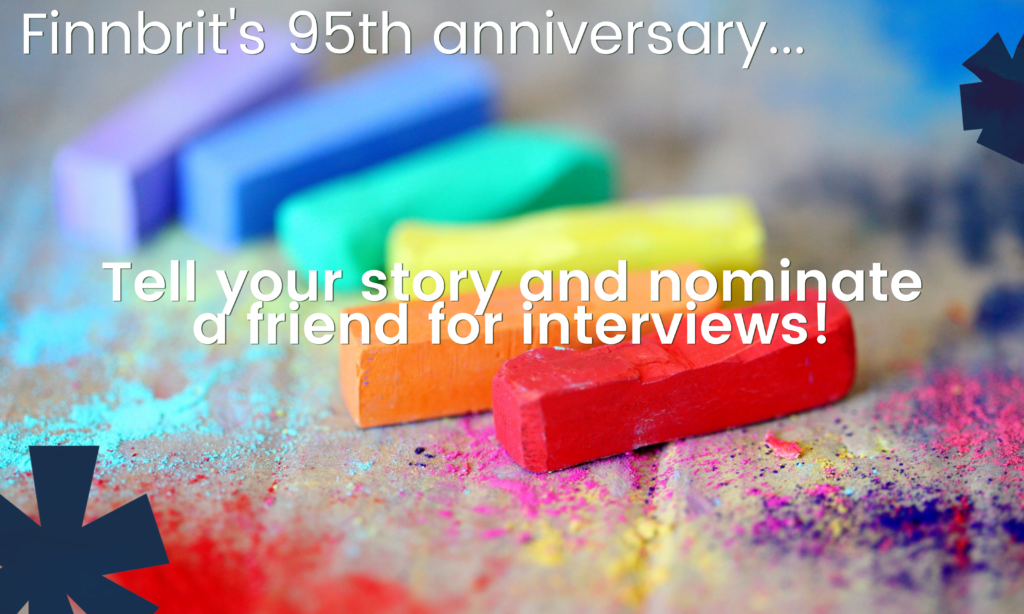 Why?
Celebrate Finnbrit's 95th with us, and help us prepare for our 100th anniversary. We want to celebrate you – our employees and volunteers by telling your stories.
What?
We would like to hear from you about your experiences, your life in Finland or impacted by Finland, and if and how you have been involved with Finnbrit. You may also imagine what your life would have been if there was no Finnbrit in your life. We aim to publish your stories on our website in our newsletters, social media posts, and perhaps even publish a book.
How?
You can participate in three ways. You can provide us with your contact details and we will contact you to arrange an interview. You may also recommend that we interview a friend of yours and provide his/her contact details. You can also write your own story and send that to us, or that of your friend.
We will record the interview and then write it up. We will send you the interview for your approval prior to publishing. We would also like to publish the interview as a podcast or a video with your consent. We appreciate you sending us any pictures you may have, preferably in electronic format. We will use these pictures as we best see fit. Please send any materials to finnbrit@finnbrit.fi with a subject of "Finnbrit trailblazer".
Who?
Finnbrit history project co-ordinator, Saana Kallioinen, will conduct and write the interviews. Saana moved to Finland from Australia and works for Finnbrit as a test invigilator, in addition to her interest in documenting, organising and celebrating Finnbrit history.
When?
We wish to publish the first interviews / stories in 2021. We wish to continue publishing the interviews towards our centennary in 2026, and we collect them as "Finnbrit stories".