Memories of Puistokatu by Anthony Shaw
There's been a lot of time for reminiscing over the last few months, not least with the virus but also during the traditional summer focus on leisure, at least for teachers. (I know gardeners are working round the clock to meet their planting and quickly harvesting deadlines- see David Stokes tips in this magazine.)
With the centenary of the Helsinki Finnbrits on the horizon in 2026, there have been more than the usual efforts to fill in the gaps of people's memories of the organisation over the years. As diligent readers may remember, Tony Lurcock is a former teacher in Finland, now resident in England, and has now compiled three books of anecdotes by British travellers to Finland, from the 1700s until modern times. His last book A Life of Extremes, finishing the series in 1945, was published in 2015 and is available from Ad Libris in Finland, or of course Amazon.
Given the popularity of this habit, I decided to indulge in a little reminiscing myself, from the time when Finland first appeared on my horizon. This might have been in my A level history book with its chapter memorably entitled The Swedish Meteor 1661-1721, but my first encounter with Finns of my own age and generation, was of the female variety I confess, in the early 1980s. Actually it wasn't their sexuality which stuck in my memory, regardless of its significance! It was the fact that in order to reach our mutual meeting point, a youth workcamp in Gyor Hungary, they had been able to travel there directly through East Germany, behind the former barrier to western eyes, behind the Iron Curtain. Intriguing.
The fact that the same girls appeared the following summer in England, Occupational Therapists doing their few months practical training in British hospitals, led to my investigating opportunities to visit Finland, which itself led to a chance encounter with a teacher here, and my future career. I know Finnish males also travelled the world during their student days, but none happened to cross my own erratic study path, so we come back again to the lure of Finnish females!
Having first come to test the snow here, I returned to test the opportunities for employment, which meant a sojourn at Berlitz School on Kaivokatu. There was quite a community of young Finns and foreigners there, teaching European languages, and most of them were women. In fact it was so close a community that I lived for nearly two years in Helsinki before becoming aware of any social activity in Puistokatu, then as now a rather sleepy part of the city located across the major park Kaivopuisto, on the opposite side from the Embassy.
It was probably the monthly Folk Club which attracted my attention, and subsequent my first visit to this leafy corner of the city. I had heard that anyone was welcome to attend, and even contribute a song or such, but given my somewhat retiring temperament I'm fairly certain that I went there without my guitar. One thing I am sure of is that it was on the first Friday of a winter month, as it still is nowadays. It was quite a trepidatious experience, not because of a burgeoning crowd of would-be, or has-been, Bob Dylans, but because of the presence of two veterans of the institution, the unrelated Joe White and Barry White. They both testify that in the 1970s those same rooms had held numerous prominent luminaries of the Finnish music scene, with numbers attending approaching three figures in its heyday. It must be admitted though that Hector and David Isokynä Lindholm have also slipped off the media radar as this century elapses.
The dark wooden panelling of the Clubroom and its formidable ceramic faced stove certainly made a different atmosphere to a typical British folk club, if such can be specified. There was beer, from
bottles of course, and there was back chat from an attentive if limited audience, but none of the 'argy-bargy' that usually dominates a pub-based scenario. This rather refined atmosphere was typical of much of the activity in Puistokatu in days gone by; after all one of the regular teachers there, a former professional model in Helsinki and Paris, conducted exercise classes simultaneously in three languages for members of the diplomatic community!
There were many definitely less highbrow events held on the premises during my involvement at Puistokatu over the next 10 years or so. A major change was due to the popularity of the English classes held there, with up to four groups meeting every weekday evening, and including students ranging from HSL bus drivers to one meteorologist currently appearing regularly after the YLE news. Some embassy staff continued to be involved in the Players' productions, and the newly formed Helsinki Morrisers maintained that link with their first public performance on the patio of the Embassy gardens. But more typical activities at Puistokatu, in addition to the traditional talks by the teachers and the monthly Ladies Tea group, were pub quiz evenings, small concerts, beer tastings, play readings and more.
The current premises in Fredrikinkatu are far more functional as well as modest than those of Puistokatu (if that can be measured by the height of the ceilings), but some of the old decor has been retained. The letter of thanks from the young Queen Elizabeth after her visit to Helsinki in 1952, has been replaced by a letter from her office congratulating the Society on achieving its 90th anniversary. More important for me is the lessened prominence of the royal portrait that used to dominate the major wall of the old Club Room, ranged opposite those of three Finnish Presidents. Maybe the Society is seen by some as going 'down market' over the years, but the move to the centre of Helsinki has seen a broadening of the catchment, greater inclusivity and hopefully greater relevance. Let's hope this continues even after the centenary.
Donators of the premises of the society
A. AHLSTRÖM OSAKEYHTIÖ
OSAKEYHTIÖ ALGOL AKTIEBOLAG
BENSOW OY AB
OY BERNER AB
OY KARL FAZER AB
OY GRÖNBLOM AB
HAVULINNA OY
KANSALLIS – OSAKE – PANKKI
OY KAUKAS AB
KYMIN OSAKEYHTIÖ
KYMMENE AKTIEBOLAG
OY POHJOISMAIDEN YHDYSPANKKI
AB NORDISKA FÖRENINGSBANKEN
G. A. SEPLACHIUS OY
O/Y SHELL A/B
SUOMEN HOYRYLAIVA OSAKEYHTIÖ
FINSKA ANGFARTGYS ANTIEBLAG
SUOMEN MERI – FINSKA SJÖ
SUOMEN OSUUSKAUPOJEN KESKUSKUNTA
OY TAMPERELLA AB
OY TELKO AB
VALTAMERI OSAKEYHTIÖ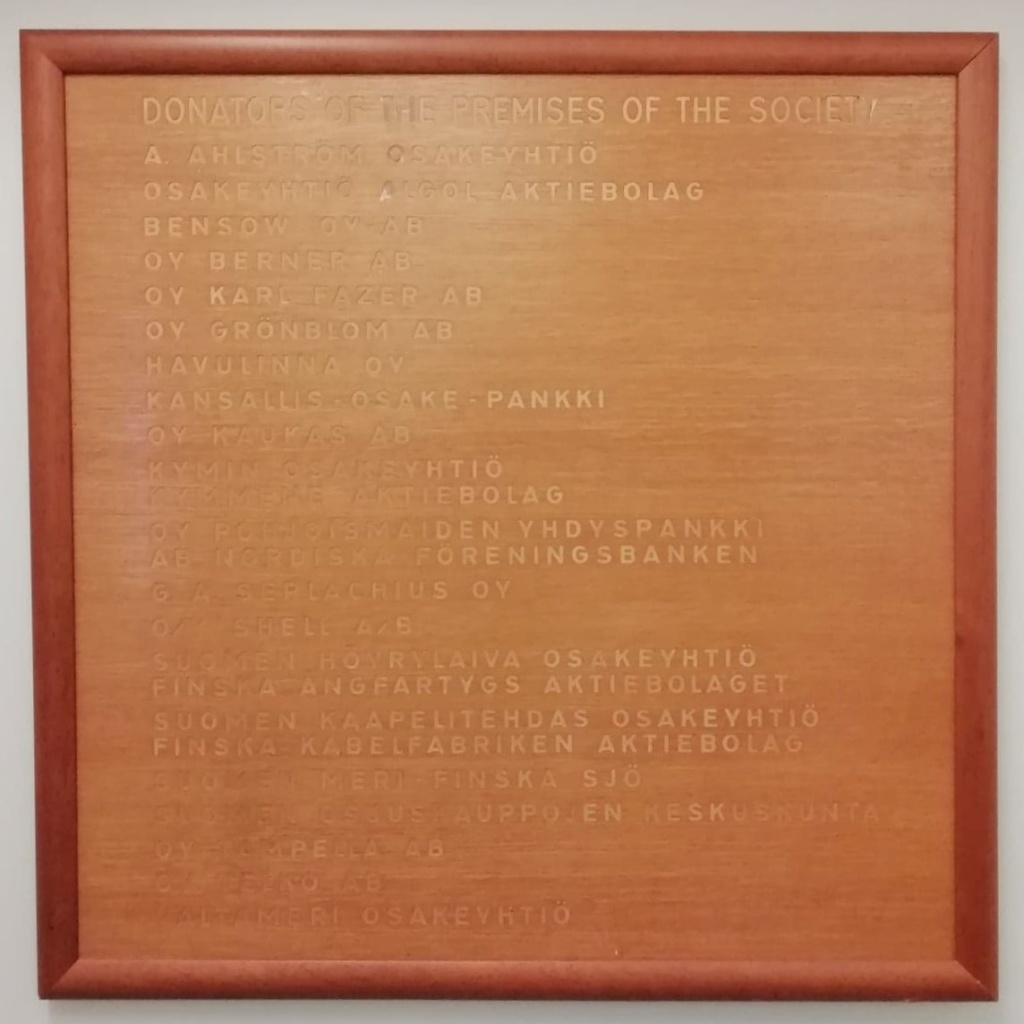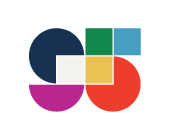 Thank you for being a part of our journey and supporting our mission!