The Common European Framework of Reference for Languages (CEFR) is an international standard for describing language ability from A1 for beginners, up to C2 for those who have mastered a language. It is used all over Europe and, increasingly, worldwide.
Each language level is defined by a series of can-do statements which describe what the learner is able to do in the target language. The CEFR levels enable students to understand what their current level of competency is and develop a plan for progressing further. It also enables stakeholders to make decisions; for example, it can help universities and companies to select applicants. Exam scores from IELTS and Cambridge English can be mapped to the CEFR.
Language competency levels
The Finnbrit language learning path offers a progression from one level to another. If you wish, you can complement your learning with participating in the social events that are held in English. You may also wish to improve your pronunciation with a number of individual, private lessons.
The language competency levels are
A – basic
B – independent
C – proficient.
These are detailed further as A1 & A2 for Basic, B1 & B2 for Independent and C1 & C2 for Proficient competency levels. Please find below descriptions on what you can expect to master regarding reading – writing – listening – speaking competencies in a real-life context at different competence levels.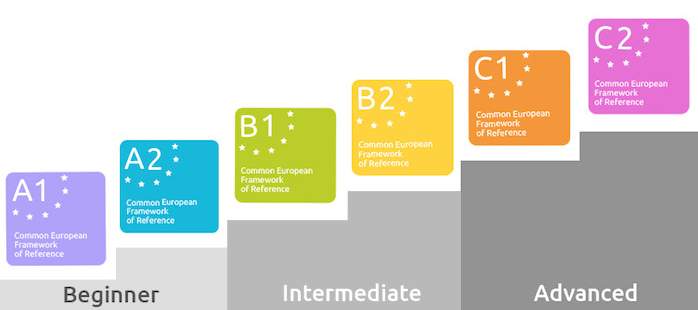 understand and use basic phrases and expressions

understand simple written English

introduce yourself and answer basic questions about yourself

interact with English speakers at a basic level.
communicate effectively face-to-face, expressing opinions and presenting arguments

follow the news

write clear, detailed English, expressing opinions and explaining advantages and disadvantages of different points of view

write letters, reports, stories, and other types of text.
At level C1 Advanced, you can…
+
–
follow an academic course at university level

communicate effectively at a managerial and professional level

participate with confidence in workplace meetings or academic tutorials and seminars

express yourself with a high level of fluency.
At level C2 Proficiency, you can…
+
–
study demanding subjects at the highest level, including postgraduate and PhD programmes

negotiate and persuade effectively at senior management level in international business settings

understand the main ideas of complex pieces of writing

talk about complex or sensitive issues, and deal confidently with difficult questions.
The framework also helps you to align the results of our language tests with the language competency levels. For example, a score of 180 points in the Cambridge C1 Advanced test is aligned with the IELTS test result of 6.5 points. Please find a pictorial presentation of CEFR and IELTS and Cambridge Assessment scores aligned by clicking here.
In order to get an idea of your language level, please try our "Test your English" quick test, participate in short level testing or contact us to receive guidance, click here.
Understanding your competence level will help you to choose the right course at Finnbrit, at the right pace, and contribute to your enjoyment of lifelong learning.